Transfer Zeitschrift 01/2018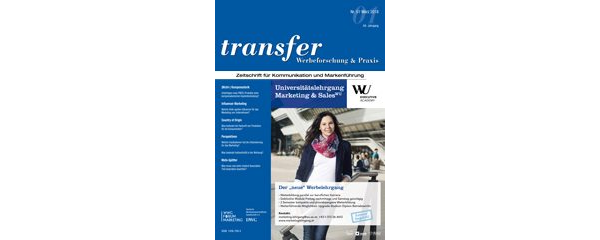 Transfer Zeitschrift 01/2018
WISSENSCHAFT
(Nicht-)Kompensatorik beim Kauf
neuer FMCG-Produkte
Prof. Dr. Thorsten Teichert
Universität Hamburg, Marketing und Innovation
Prof. Dr. Bernhard Heidel
Hochschule RheinMain, Wiesbaden Business School, Lehrstuhl für Marktforschung
In der Praxis wird häufig implizit davon ausgegangen, dass neue Produkte des täglichen Bedarfs am PoS auf Basis einer kompensatorischen Kaufentscheidung, bei der mehrere Merkmale berücksichtigt und gegeneinander abgewogen werden, gekauft werden. Dieser Beitrag untersucht die Rolle der Kompensatorik bzw. der Nicht-Kompensatorik bei der Wahl neuer FMCG-Produkte. Anhand einer kritischen Bestandsaufnahme der Literatur werden je zwei Hypothesen zur Existenz und zu den Effekten von Nicht-Kompensatorik abgeleitet. In einem qualitativen Pretest und in einer Experimentalstudie wird empirisch geprüft, welcher Entscheidungstyp dominiert und welchen Einfluss Top-down- und Bottom-up-Prozesse auf die jeweiligen Auswahlentscheidungen ausüben. Die empirischen Befunde belegen einen überwiegenden Einsatz von Nicht-Kompensatorik bei Neuproduktentscheidungen. Da systematische Abweichungen in der Bedeutung einzelner Produktattribute bestehen, ist die Berücksichtigung des Entscheidungstyps von hoher Relevanz für die Marktforschungs- und Produktgestaltungspraxis.
Influencer – Trendsetter für Ihre Follower
und ein spannender Marketingkanal für Unternehmen
Dipl.Ing. Christian Hotz-Behofsits
Institute for Interactive Marketing & Social Media, Wirtschaftsuniversität Wien
Dr. Nils Wlömert
Institute for Interactive Marketing & Social Media, Wirtschaftsuniversität Wien
Univ. Prof. Dr. Nadia Abou Nabout
Institute for Interactive Marketing & Social Media, Wirtschaftsuniversität Wien
In den letzten Jahren hat Influencer Marketing immer mehr an Popularität gewonnen. Hierbei veröffentlichen Meinungsmacher, sog. Influencer, werbliche Beiträge in sozialen Medien. Durch den Einsatz von Influencer Marketing versprechen sich Unternehmen, insbesondere bei jungen Zielgruppen eine höhere Werbewirksamkeit, da diese immer schlechter über traditionelle Kanäle (z.B. TV) erreicht werden können. Es ist jedoch unklar, ob und wenn ja, warum die Wirksamkeit von Influencermarketing höher ist, nach welchen Kriterien Influencer ausgewählt werden sollten, und wie ein angemessener Preis zu ermitteln ist. Ziel dieses Beitrags ist es, eine Einführung in das Thema zu geben, sowie die Vorteile und Schattenseiten dieser neuen Werbeform darzustellen.
PRAXIS
Authentizität durch Herkunft
Dr. Stephan Feige
Geschäftsführer der htp St.Gallen Managementberatung AG
Raphael Annen
Berater bei der htp St.Gallen
Die Kenntnis der Herkunft von Produkten stellt ein immer wichtiger werdendes Kundenbedürfnis dar. Besonders im Zeitalter der Globalisierung suchen Konsumenten als Gegentrend zu ihr nach authentischen und für sie besser greifbaren Produkten. Unternehmen reagieren hierauf, indem sie zunehmend ihre Herkunft einsetzen. Namentlich beziehen sich immer mehr Unternehmen auf ihr Heimat- oder Herkunftsland oder auf die Region, aus der Ihre Produkte stammen. In vielen Fällen geschieht dies in Form eines «Co-Branding» der eigenen Marke mit dem Herkunftsland. Der Bericht aus dem Country of Origin Projekt erläutert die Chancen und Herausforderungen und stellt die empirischen Ergebnisse aus zehn Projektjahren dar.
Wirkungsebenen der Werbekommunikation und ihre spezifischen Erhebungsinstrumente
Ergebnisse einer Expertenbefragung in der D-A-CH-Region.
Prof. Dr. Tobias Keil
FOM Hochschule für Oekonomie & Management, Frankfurt/Main
Prof. Dr. Simon Ottler
Duale Hochschule Baden-Württemberg Ravensburg
Der vorliegende Artikel präsentiert und diskutiert die Ergebnisse einer Expertenbefragung, mit der ermittelt wurde, welche Forschungsinstrumente zur Untersuchung spezifischer Werbewirkungsebenen in der D-A-CH-Region eingesetzt werden. Im Fokus steht die Frage, inwiefern die kommerziell genutzten Instrumente dem in der letzten Ausgabe dargestellten Literaturüberblick entsprechen und die Bandbreite der verfügbaren Instrumente reflektieren. Die Ergebnisse zeigen, dass innovative und komplexe Ansätze unterrepräsentiert sind und nur auf ein vergleichsweise kleines Portfolio von mehr oder weniger klassischen und bewährten Forschungsinstrumenten zurückgegriffen wird.
SERVICE
Urban Research – Multidisciplinary Perspectives
PD Dr. Monika Koller
Institute for Marketing & Consumer Research, WU Wien
Mag. Sandra Holub
Institute for Marketing & Consumer Research, WU Wien
Prof. DDr. Bernadette Kamleitner
Institute for Marketing & Consumer Research, WU Wien
The citizen as consumer of urban space
Isabel Eichinger is a research and teaching associate and PhD candidate at the Institute for Marketing Management, WU Vienna. She studies consumer behavior with a focus on urban neighborhoods, empowerment, and consumption of the analog in the digital age.
Monika Koller is an Associate Professor at the Institute for Marketing & Consumer Research, WU Vienna. In her current research, she focuses on consumer behavior in urban neighborhoods, customer value management, the role of human sensory modalities in a consumption context as well as on consumer neuroscience.
Together, Isabel and Monika work on two research projects at the intersection of urban studies and consumer research: "From neighborhood to brand (Vom Grätzel zur Marke)", funded by the Vienna Economic Chamber; and "Empowered Citizens: Quality of Life in the Smart City Vienna", funded by the Anniversary Fund of the City of Vienna (Jubiläumsfonds der Stadt Wien).
The role of green spaces for urban tourism –
Lessons from selected European cities
Margit Kastner is a Senior Lecturer in the Department of Marketing at WU Vienna. During completing her Master and PhD studies, Margit worked at the Institute for Tourism and Leisure Studies as an e-learning consultant (e-Developer) in the field of Marketing for WU's e-learning system Learn@WU. This is where her passion for educational research started, which is still reflected in her teaching and research today. Other areas of interest include tourism and marketing. In particular, Margit is eager to discover the potential of green spaces in urban areas as touristic attractions as well as to explore all facets of the pricing strategy "pay what you want".
Claudia Bauer-Krösbacher is a senior lecturer and researcher at the IMC University of Applied Sciences Krems in Austria. She received her PhD from the Dublin Institute of Technology and holds an MA in Economics from the University of Innsbruck. Claudia has extensive experience as a lecturer and in didactics. Her research interests include cultural tourism, authenticity, and tourism consumer behavior with a special focus on gardens and parks.
Habitat "Region"
Edib Uruci is a young expert in the fields of urban and regional planning, smart city and cross border cooperation approaches in EU and SEE countries. He studied Spatial Planning at Vienna University of Technology and completed in 2014 his diploma thesis in the field of strategic urban development on the cases of brownfields. Previously he worked in several planning offices in Vienna in the field of urban and regional planning. He was in charged for smart city projects in the Department of Urban Planning and Development for the City of Vienna. Currently, he is a lecturer and researcher in the fields of urban and regional planning at Vienna University of Technology. He has recently been involved in the development of a regional framework development plan for the area of Canton Sarajevo.
From appendage of the city to an independent regional decision-making level.
Perspectives on digital urbanism
Ian McShane is senior research fellow and deputy director of the Centre for Urban Research, RMIT University, Melbourne, Australia. A historian by training, Ian worked as a museum curator before moving to academia. He researches social and digital infrastructure, including cultural and educational institutions, community facilities, and local public wireless networks. He holds advisory appointments with UNESCO and the Australian Government Office of the Arts.
Peer-to-Peer Carsharing –
consumer acceptance and relevance in perspective of disruptive technologies
Dr. Volker Amann has recently completed his PhD studies at the Vienna University of Economics and Business (Institute for Transport and Logistics Management). His doctoral thesis was written about the subject of this article. Right after completion of his studies, he founded the company AVIMO consulting with the goal of implementing sustainable mobility solutions with focus on shared mobility. Before his PhD studies, he worked for several years in the automotive industry and was engaged with the market introduction of electric vehicles and new mobility solutions including carsharing.
Food sharing – an urban phenomenon
Sandra Holub is a PhD candidate at the Institute for Marketing & Consumer Research at WU Vienna. Her primary research interest lies in the field of consumer psychology and behavior. She is particularly curious about the social, motivational and psychological drivers behind sustainable consumption phenomena, such as food sharing or peer-to-peer car sharing.
Authenticity
Michail Kokkoris is Assistant Professor at WU Vienna Uni­versity of Economics and Business (Institute for Marketing and Consumer Research). He studied Psychology (BSc., Hons) and Organizational and Economic Psychology (MSc) at Panteion University in Athens. He received his PhD from Bremen International Graduate School of Social Sciences at Jacobs University in Bremen funded by a stipend from the German Research Foundation. Prior to his PhD, he worked several years in marketing and market research with a focus on FMCGs. Before joining WU Vienna, he was Research Asso­ciate at the University of Cologne and Visiting Postdoctoral Scholar at Stanford University. His research interests lie in the field of consumer psychology, especially the role of self and identity in consumer choices. His research has been published in several international journals, such as Psychology & Marke­ting, Journal of Consumer Behaviour, Marketing Letters, Per­so­nality and Individual Differences, Motivation and Emotion, and Journal of Cross-Cultural Psychology.
Perspektiven – Interview mit Priya Raghubir
Priya Raghubir is the Dean Abraham Gitlow Professor of Business at the NYU-Stern School of Business. Prior to joining NYU Stern, Professor Raghubir was a professor at the Haas School of Business, UC-Berkeley, and at HKUST. Professor Raghubir's research interests are in the areas of consumer psychology, including survey methods, psychological aspects of prices and money; risk perceptions; and visual information processing. She has published over 50 articles and book chapters journals including Journal of Marketing Research, Journal of Consumer Research, Journal of Consumer Psychology and Marketing Science. She is an Associate Editor for JCP and is on the editorial boards of JCR, JMR and Marketing Letters. She has delivered over 100 presentations of her research at major universities, symposia and conferences around the world.
Implicit Association Test (IAT):
Vier-Schritte-Modell zur Gestaltung des Stimuli-Sets
Dr. Gerhard Brenner
Absolvent der Wirtschafts-universität mit dem Disserta-tionsthema "Vertrauen im Dienstleistungsmarketing: Die Wirkung von Kommunikations-maßnahmen auf das implizite und explizite Vertrauen"
Vor genau 20 Jahren präsentierten Greenwald, McGhee und Schwartz (1998) den Implicit Association Test (IAT) zur impliziten Einstellungsmessung. Mittlerweile wird die Methode auch intensiv in der Konsumentenforschung angewendet. Der IAT beruht auf dem Prinzip der Assoziationsstärke, gemessen an der Länge der Latenzzeit zwischen Stimulus-Onset (z. B. "Audi", "Ford", "sicher" oder "unsicher") und einer bestimmten Reaktion (z. B. "drücke Taste d" oder "drücke k"). Diese Latenzzeit ist nur dann aussagekräftig, wenn die Versuchspersonen die Stimuli in ungefähr derselben Zeitspanne entschlüsseln und verarbeiten. Eine individuell unterschiedliche Entschlüsselungsdauer einzelner Stimuli kann die IAT-Werte verzerren. Solche Verzerrungen potenzieren sich bei einzelnen Stimuli über den gesamten Versuchsverlauf hinweg und können IAT-Ergebnisse entscheidend verändern, ohne dass es den Anwendern oder den Versuchspersonen selbst auffällt. Der Gestaltung der Stimuli-Sets wurde bislang wenig Aufmerksamkeit gewidmet. Stimuli-Sets werden in der Regel in zwei Schritten erstellt: einem Brainstorming und einem Pre-Test. Im vorliegenden Beitrag wird ein Vier-Schritte-Modell zur Gestaltung der Stimuli-Sets vorgeschlagen, um individuelle Entschlüsselungsunterschiede zu vermeiden: (1) Brainstorming, (2) Forming & Performing, (3) Backward-Brainstorming, (4) Informing & Interviewing.